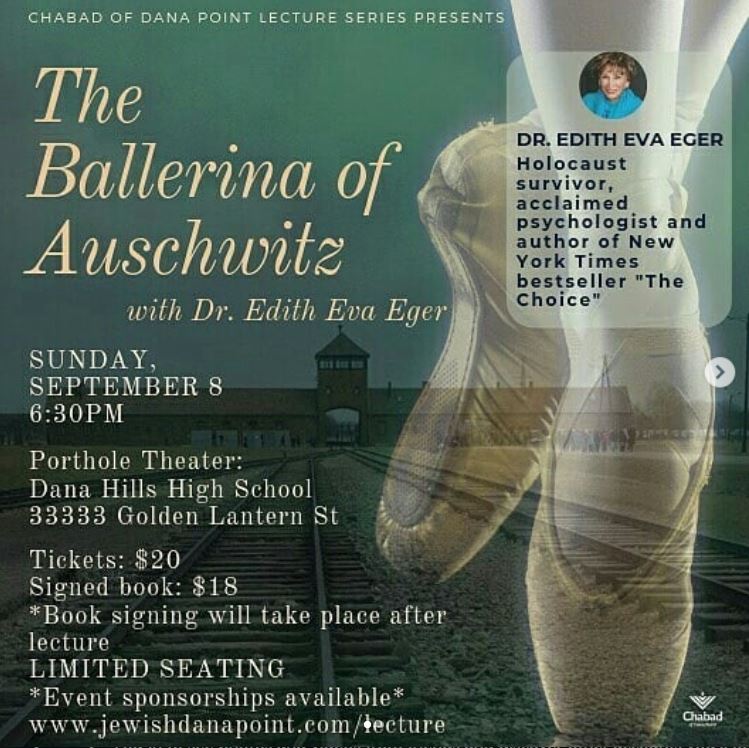 Chabad of Dana Point invites the community to an evening with Dr. Edith Eva Eger, the "Ballerina of Auschwitz", on Sunday, September 8th, 6:30 pm at the Porthole Theater, Dana Hills High School.
At the age of sixteen, Edith Eger, a trained ballet dancer, and gymnast were sent to Auschwitz. Hours after her parents were sent to the gas chambers, the "Angel of Death," Nazi officer Dr. Josef Mengele, forced Edie to dance for his amusement—and her survival.
Dr. Eger is a renowned psychologist and speaker who specializes in treating patients suffering from traumatic stress disorders. She demonstrates, in her life and professional practice, how freedom from trauma, grief, and fear becomes possible once we confront our suffering and make the choice to heal.
Dr. Eger is a prolific author and a member of several professional associations. She has a clinical practice in La Jolla, California and holds a faculty appointment at the University of California, San Diego. Her book –The Choice: Embrace the Possible, is a powerful, moving memoir, and a practical guide to healing
Space is limited. Tickets must be purchased by September 5th. Please visit JewishDanaPoint.com/lecture for RSVP & book purchase.